---
---
Contact Us
We're always interested in Triumph T20B Bantam Cubs and Super Cubs, but our time is limited so we may not be able to reply quickly.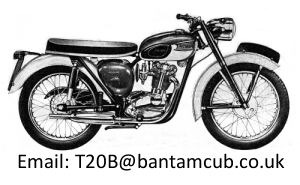 In the meantime, if you're looking for more information please try the various forums and websites on our links page.
---
Questions about Tiger Cubs? Why not try some of the independent forums such as:
Tiger Cub & Terrier | The Triumph Forum | Triumph Rat Forum | or others.
Boring legal bit... All information on this website is provided in good faith. The accuracy of the information cannot be guaranteed.
No responsibility can be accepted for any consequence arising from the use of this website. You must independently verify all information..
The owner of this website has no connection with or interest in any organisation mentioned except as a customer or casual subscriber.
Copyright © 2011-2023